Contact Us
Mr.Li Rugang
T: +86-22-66372115
F:+86-22-66372117
E: Info@sinolinker.net
Rugang@tslmarine.com
W:www.TSLmarine.com
Area:Binhai New Area, TianJin, China
AGENT
Africa
HYDAC Technology
Cape Town, South Africa
Contact: John Hodges
T: +27 21 418 7696
F: +27 21 418 7695
E: john.hodges@hydac.com
W: www.hydac.co.za
Anchor Handling Towing Winch
F
or all types of AHTS, TSL offers a wide range of anchor handling/towing winches.
W
inches are offered with hydraulic drive and spooling device, also combined with cable lifters according to client's requirements. Our winches are delivered with advanced bridge control systems including all required functions and automation, in addition to the local controls on the winches. The rugged design ensures trouble free operation under demanding conditions.
T
hese winches can be of double or multiple drums arranged in a waterfall or linear configuration. Each drum is fitted with a hydraulically released, spring loaded and fail-safe band brake. The winches are of heavy-duty box frame type construction with the main drums running on spherical roller bearings. The drums are selectively operated via hydraulic actuated jaw clutch. The winch is driven by high torque low speed hydraulic motors via spur gear reduction.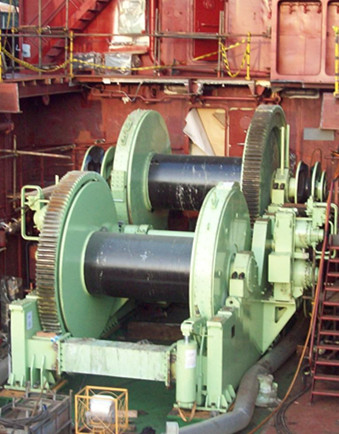 T
he wire rope is over-spool or down coil for both drums. Each drum is fitted with a mechanically driven and synchronized spooling device suitable for the required wire rope diameter. The steel wire rope also can be arranged via an individual hydraulic driven spooling device to suit the different of rope size. The equipment can be equipped with wire rope tension and payout length readout. Dynamic braking to facilitate high load/high speed lowering without de-clutching can also be fitted. The winch is capable of emergency release under a combination or all of the following conditions; Deadship, Brake on, hoisting/lowering operation.
FEATURES:
• Drive: Hydraulic

• Configuration: Double or triple drum

• Drum: Suit for steel wire rope

• Drum capacity: According to client specification

• Rated pull: Up to 300 tonnes (1st layer)

• Brake holding: Up to 400 tonnes (1st layer, static)

• Wire speed: Multiple ranges available

• Clutch: Hydraulically operated

• Brake: Spring loaded, hydraulically released fail-safe • band brake

• Control: Local control for maintenance and remote control for operation

• Type of vessel: Anchor Handling Supply Vessel/Offshore Supply Vessel
OPTIONS:
• Dynamic braking to facilitate high load/high speed lowering without de-clutching

• Emergency quick release

• Length and tension monitoring system

• One, two or three spooling gears

• Delivered with complete power pack

• Built with specific gypsy for rig chain handling

• Under-spooling of wire rope to accommodate for short working deck