Contact Us
Mr.Li Rugang
T: +86-22-66372115
F:+86-22-66372117
E: Info@sinolinker.net
Rugang@tslmarine.com
W:www.TSLmarine.com
Area:Binhai New Area, TianJin, China
AGENT
Africa
HYDAC Technology
Cape Town, South Africa
Contact: John Hodges
T: +27 21 418 7696
F: +27 21 418 7695
E: john.hodges@hydac.com
W: www.hydac.co.za
Towing Winch
TSL delivers a wide range of towing winches for all types of tugs, also supply towing winches for various types of offshore vessels (PSV and stand by vessels). They can be outfitted in any kind of configuration, with any desired capacity and powered by electric or hydraulic drives. Depending on the scope of work, type and amount of wire, they are built with or without spooling devices. They are optionally equipped with tension and length measurement systems, and can be outfitted to work on render and recovery basis for (terminal) tugs performing ESCORT duties.
T

he winches are delivered with joystick bridge control including required functions and automation, in addition to the local control on the winch. Our rugged design made by experienced engineers, ensures trouble free operation under extreme conditions.
F

orward towing winches for tugs can be delivered according to customers requirements, also according to active escort tug requirements. The towing winches aft. on the vessel are delivered either in single or double drum configurations (water fall or linear configurations).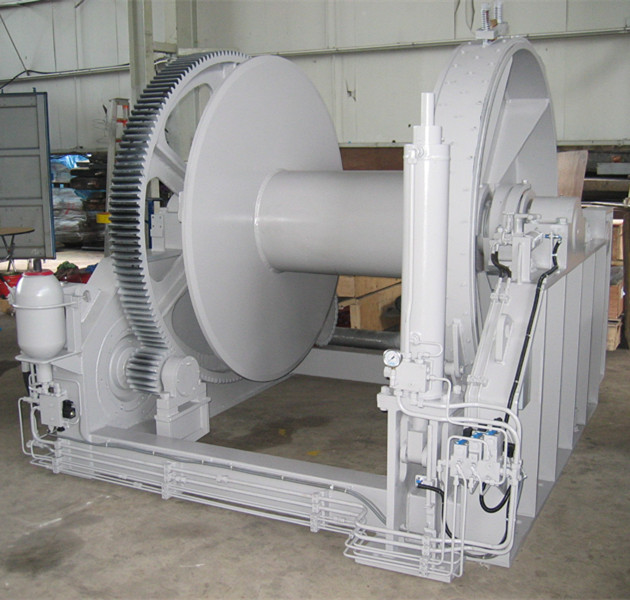 FEATURES:
• Drive: Electric or hydraulic

• Configuration: Single or double drum in linear or waterfall

• Drum: Suit for rope or steel wire rope

• Drum Capacity: Depending on client requirement

• Rated pull: Up to 300 tonnes (1st layer)

• Brake holding: Up to 450 tonnes (1st layer, static)

• Speed: To suit operational requirements

• Clutch: Manually or hydraulically operated

• Brake: Manually or hydraulically operated band brake

• Control: Local and/or remote control

• Type of vessel: Maintenance Work

Vessel/Harbor Tug/Terminal Tug/Escort Tug/Anchor Handling Supply Vessel
OPTIONS:
• With spooling device

• With warping head

• Tension and length monitoring system

• Constant tension or auto tension control

• Escort operation module

• Emergency release